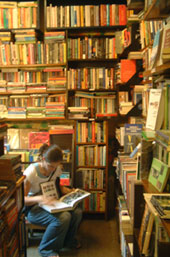 Often people ask us if we publish books, as such people tree has never published any books. Some of us have illustrated them, even written parts of them. But we read books, are inspired by them to create visual images, they expand and deepen our knowledge about all the wonderful, diverse, parallel thinking that's going on in the world.


It was due to our search for the many voices we needed to fuel our energies that we turned to books. At first the books we were reading, lay around us at 8-regal building. Then, when some one would want us to substantiate the 'gut' theories
on our t-shirts we decided we'd like to be able to show them where the ideas came from.

And so we went looking for written matter…and got to know a whole lot of people. Other India Press, Third World Network, Bharat Dogra .... Kalpavriksh.

The bookshop here on the web-site is but a fraction of all we stock at our store in Delhi. And we can and do try and get books especially for any one who wants us to...over and above what's at our store. This helps us too, as people
often


give us suggestions about the books we should have at the store. This is wonderful and very much a 'people treeeeee' thing to happen!!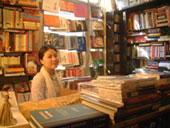 This advice from our customer - partners has been invaluable. It has helped our book store reach where it is today. Very much an integral part of people tree. We've got books from publishers like zed, tulika, altermedia, earthcare books, third world network…the list is endless. We also stock magazines like 'the little magazine', down to earth.

We're stocking films too. Films like 'words on water' by sanjay kak about the narmada anti dam struggle. Also music. Music which we play incessantly at People Tree. not as some sort of soothing sound in the back ground. But music as a part of the 'people tree-experience....' and who knows one day we'll be publishing too.