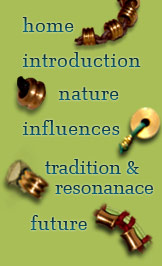 The pet project these days is designs with silver elements. These pieces resembling fledgling rafters, embellished webs, intricately woven into squares and other shapes exceeding the size of rupee coins are quite a departure from the earlier,linear and fragile designs of Simran.
I am starting to venture beyond jewellery, am experimenting with weaving leather onto clothes, into bags.

And now have someone assisting me so I am free to create newer designs....


I was raised in a hilltown, and lived some years in Delhi. Recently, after some years of being in Goa, Nikki and I bought ourselves a piece of land to build a home. Neither of us has had any backing so this has been a mooring. Goa is very conducive to my creativity and happiness... I see the way my work evolves here simply because I am in my element.